A World of Artists in Kagawa | International Artist Exhibition
How many people from foreign countries who come to [the Setouchi International Art Festival 2010] ?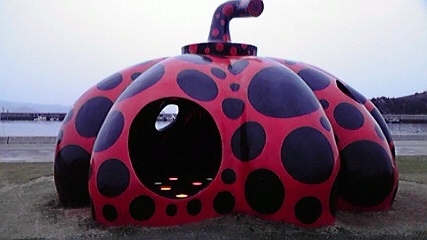 About Festival
This festival is done for about 100 days from July 19, 2010.
It is done on seven islands in the Inland Sea(Setouchi-sea).

Seven islands : Naoshima-island,Teshima-island,Megijima-island,Ogijima-island,Shodoshima-island,Oshima-island,Inujima-island
Other Event done on here : Takamatsu-Port,Uno-Port
The first event is held as for this project in 2010. It is scheduled to be done every three years of the future.
The one of the building designed by Tadao Ando is abundant. It is paid attention from the world.
Especially, Naoshima is being administered as an island of the art by Benesse Holdings, Inc..
【Benesse Art Site Naoshima】
Where is Kagawa (Setouchi) in Japan.
Pref-Kagawa is here.
Information
Site of the Setouchi International Art Festival 2010
Coffee shop in Naoshima
Udon
The speciality of Kagawa-Pref is a Udon (japanese-noodle).
A lot of Udon-shops are in Takamatsu.
In Udon, it is a feature that noodles are fatter than soba.
Related: